www.bistonesoft.com
Hotel Management System Online Help
Step 1 How to login
If you first start your system, you can use the default administrator to login it. Its password is empty, as Figure 1 shows, you can just click Login button to login your system and get all permissions: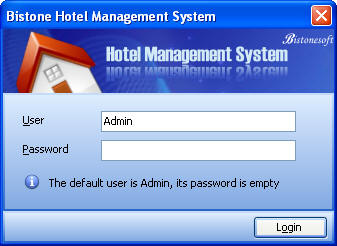 Figure 1 Login As Admin
If you are a staff member of this hotel, you can login with your user name and password. Of course, you should ensure that you already are allowed login this system. If you want to add some users, please refer to Step 8 - Employee Management.